News
Keeping you up-to-date with what's going on at Merlin Inflatables
Merlin Inflatable Recent News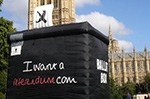 02/03/16
Electoral fever is now in full swing and to ensure voters are attracted to the polls maximise your campaign by using giant inflatable ballot boxes and X's.
Read more
12/10/15
Spooky and scary Halloween Events can be made memorable by using Giant Inflatable Monsters and Pumpkins.
Read more
18/06/15
Celebrating 100 years of the Blind Veterans UK charity
Read more
DUCK FLOATS ON THAMES
20/11/13
Tuesday 20 November saw the launch on the Thames of a giant inflatable duck for Jackpot Joy.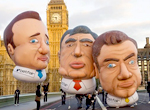 GIANT HEADS FULL OF HOT AIR!
05/05/10
Tuesday 4 May saw the march of the 3 main contenders in the General Election from Jubilee Gardens to Westminster. These giant heads were commissioned on behalf of Betfair and the heads were floated at differing heights to represent the betting odds.
UNIVERSITY STUDENT EVENTS
09/02/09
Freshers - with a new year starting for thousands of students, events are held to make them welcome and inflatable signs and inflatable messages play their part.
CHRISTMAS INFLATABLES
05/07/08
Inflatable Christmas snowmen, inflatable Christmas trees and inflatable Santa Claus all add to the festivities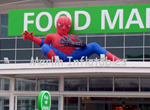 SPIDERMAN
09/13/07
The ASDA store in Milton Keynes has an Advertising Sales Promotional Inflatable boosting the new product launch of the latest Spiderman DVD.
EUROPEAN MATTERS
08/06/07
A big issue requires a big impact.The All Party referendum campaign know how to grab attention and broadcast an important message to a wide audience.